Our Verex Remotes provide continued support for the discontinued Verex access system!
Read On!
We supply the Highest quality
Our Pre-Programmed Verex Fobs work just like the original, only with better quality components!
DO YOU OR YOUR BUILDING NEED REPLACEMENT REMOTES FOR YOUR VEREX GARAGE/BUILDING ACCESS SYSTEM?
We provide a direct replacement for the Verex system of fobs with unparralaled customer support for years to come! We can help save you thousands on upgrading your system because of discontinued support. Our solution is unrivaled and is an improvement upon several factory provided parts from the Verex system. 
Our Perfect Replacement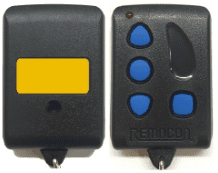 Our remote and RFID solution is a complete replacement for the Verex fob system. Each fob is made of long lasting ABS plastic and also comes with a metal chain that will last for years to come. Not only do you receive high build quality when ordering our product, but this particular remote fob comes pre-programmed to send a unique traceable ID. Each and every key fob also includes a pre-programmed GPROX RFID module for front door and elevator access.
We provide a technician to drive to your location and perform testing and diagnostics with your purchase!
All our Verex fobs come with a fully charged battery which should last 2 years or more in optimal conditions.
Request More Information / Sample
If you would like more information or a sample. Please fill out the form below! If you are local in Vancouver, we can even come by with a sample to prove that it will work!
FAQ
Frequently Asked Questions
Will the key fobs look the same?
No, they will look slightly different.
Will the steps to programming the fob into the system be the same?
Yes, they will function exactly like the original key fob!
Will it open the garage door and the normal tap scanners?
Yes, they will work in exactly the same way as the original key fob!
What is the minimum order quantity?
We require a MOQ of 30 pieces. We can provide a one time sample with no MOQ!
What is the price?
Please call for pricing. Our price per piece is between $35 and $50.
How long will it take to deliver?
A sample can be delivered to you within 2 business days. Smaller orders can usually be filled with stock on hand. Larger orders may take up to 3 weeks.
Does it work for garage and regular doors?
 Yes, it will work for both.
 1-Business Week
Save Thousands and Get Your Pre-Programmed Remotes.
Have pre-programmed remotes sent to you and save hundreds or thousands of dollars on a new system access replacement!
Pricing
Choose A Plan That Works For You
Get your pre-programmed remotes in as little as 1 or 2 business days!


30+ Remotes
Bulk order and get it cheaper than Verex's fee
1-Year Warranty
Contact Us with Questions
Bulk Order cheaper than Verex's fee
1-Year Warranty
Contact Us with Questions

 
50+ Remotes
Bulk order cheaper than Verex's fee

1-Year Warranty

Contact Us with Questions
Reach out to us when you're ready to get your fob copied or if you have any other questions!
We are available 7 days a week & provide a lifetime warranty to each and every customer! Ready? Let's go! 
#FobCouver #KeyFobCopying